NSCDC arrest man for alleged illegal diversion of fuel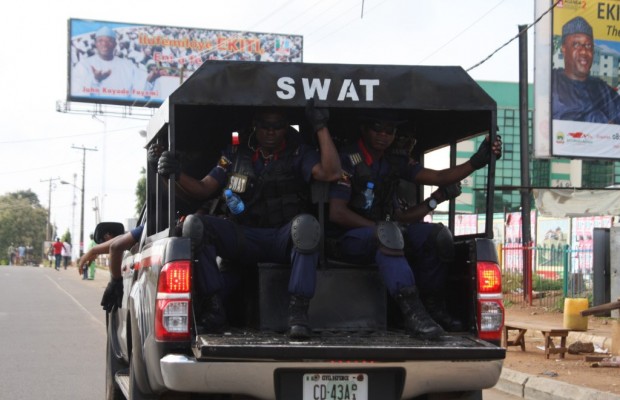 The long arm of the law has caught up with the owner of filling station in Ilorin for dispensing fuel to black marketers under the cover of the night.
---
The shady business was busted after a surveillance and raid by men of the Nigeria Security and Civil  Dfence Corps(NSCDC).
the scarcity of fuel is still biting hard in Ilorin, the kwara state capital and a  filling station located along Zango road in Ilorin, the Kwara state capital has been caught in the web of illegal diversion.
It got a supply of the premium motor spirit but instead of dispensing to the public, the owner of the station decided to sell it to black marketers at a higher rate.
dispensing pumps were run to the backyard of the filling station and fuel dispensed to the highest bidder.
The state commandant of the Nigerian Security and Civil Defence Corps, Fathiu Adeyinka accompanied by his men arrived the station fully ready.
According to the officials of the Nigeria Security and Civil Defence Corps, the fuel was dispensed at night under the cover of darkness.
The station owner was said to spread the pump nozzle from the main pumps to the backyard of the station where an attendant is filling the jerry cans which runs to seventy-three.
The petrol attendant noted that he is only carrying out the order of the owner of the station who took his heels on sighting the officials of the Corp.
The woman who is the harrow head of the black marketers explains in yoruba that she usually buy the fuel to sell to remote places in the state where there are no petrol stations and has been dealing in the business for long .she was supplied at the rate one hundred and eighty Naira per litre.
The NSCDC officials later arrested ten suspects including the drivers, buyers, and petrol attendant and later throw open the gate of the petrol stations for the public who expresses happiness with the NSCDC.
However, some buyers also express their happiness.
 As the fuel scarcity continues to bite harder, Nigerians want the government to find a lasting solution to the problem in order to alleviate the suffering of the masses.