Meningitis hits Lagos, kills 2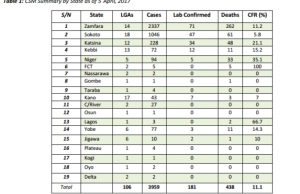 The Nigeria Center for Disease Control (NCDC) on Friday has confirmed death of two people in Lagos due to the spread of the cerebro spinal meningitis.
---
 The statistics released by NCDC on Friday revealed that a total of 3,959 cases have been reported with 438 deaths.
The report showed that three cases were reported in Lagos out of which two have been confirmed dead.
The deadly disease has been reported in 19 states while Zamfara, Katsina, Kebbi, and Sokoto are the most affected.
Vaccination against the disease has however started in Zamfara state as the state is the most affected with the highest number of death recorded since the outbreak of the disease.