Lagos govt demolishes Ile-Epo market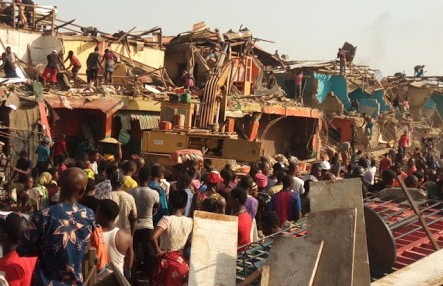 Officials of the Lagos state government have invaded the Araromi Oke-Odo market also known as Ile-Epo, destroying structures and properties of traders.
---
The demolition of the market started early Friday, April 27 with many traders looking helpless while others made frantic efforts to rescue some of their stocks which the traders claimed worth millions of naira.
When Galaxy news crew visited the site, officials of Lagos State Environmental and Safety Corps (LAGESC),  Lagos state Taskforce as well as officers of the Nigerian police were present coordinating activities in the market while traders continued to recount their loss.
The demolition exercise was said to have been carried out to allow for renovation of the market. However, some of the traders say they were only served two days.
While expressing their reactions towards what the traders described as 'the 'wicked activities' of the state government, the traders revealed that some of their market leaders have been arrested for resisting the destruction of the market.
Report by Joseph Okoh