Internet fraudster mobbed to death after killing 5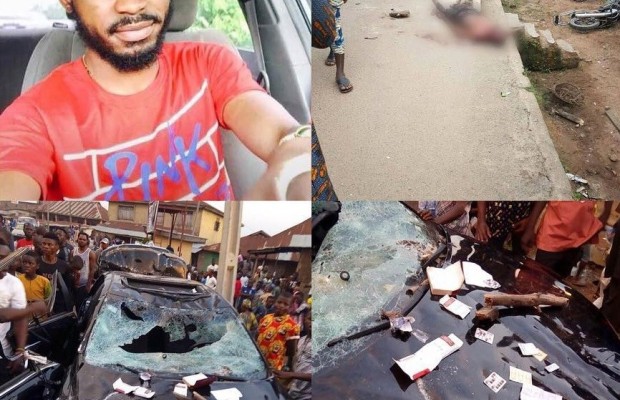 An angry mob in Ede, Osun state has on Monday, August 27, lynched to death, a student of the Federal Polytechnic in the state.
---
Their deceased victim identified simply as Fisayo was said to have been attacked by the mob after he (Fisayo) and his friends allegedly killed five persons in the state.
Fisayo who was until his death, a final year Building Technology student, and his friends who were suspected to be returning from a club in their own car, killed one person at Akoda, proceeded to Eleha, Bepo to hit another road user while recklessly driving on the motorable expressway.
Haven killed two people in a hit-and-run accident, the angry mob intensified their pursuit and caught up with Fisayo and his friends at Orita Oloki where they (Fisayo) also ran into a motorcycle rider, killed his two passengers including the rider of the bike.
Upon their apprehension, the mob descended on the suspected internet fraudsters, popularly called 'Yahoo Boys,' beat Fisayo to his death while his friends narrowly made their way to escape being lynched by the mob.
After Fisayo's death, the angry mob proceeded to vandalize the car which the late Fisayo and his gang drove in.
Report by Godday Akoh