Ifeanyin Ubah faults PDP primaries process, protest Obaze emergence.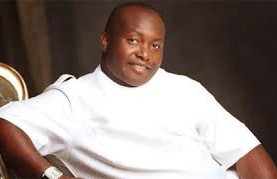 Patrick Ifeanyi Ubah of capital oil and Football club 'Ifeanyin Ubah,' owner, has faulted the just concluded PDP primaries.
---
Ubah who contested in the primaries said the process though was made to be perceived as free and fair but in the real sense, it has no single of truth.

During the primaries, the Capital oil boss had tried to lay his complain to the chairman and Chief returning officer for the election, Mr David Amahi the executive governor of Eboyin state but was allegedly shutdown.

Ifeanyi Ubah dared the officials to make known to the people the delegates' list used for election.

Meanwhile, some other persons who had also noted the anomaly said the process went bad because certain people want to impose candidate on them. They charge that godfather pattern o system be remove from the state politics if it must survive.

The Oil boss vowed to challenge all the impunity embedded in the access to ensure the people of Anambra get victory and be governed by their choice man.