Horror As police discover shallow graves of over 16 bodies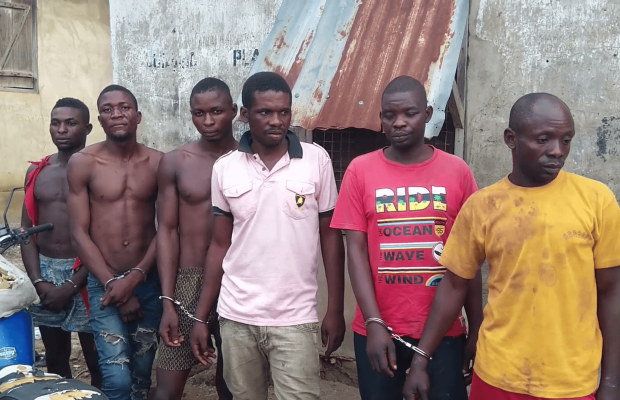 Officer and Men of Operation Zenda an elite squad of the Benue State Command have arrested six persons in connection with kidnapping and serial killing in Ushongo local government area of Benue state and also uncovers 16 shallow graves in the residence of the gang leader.
---
The elite squad led by the commander, SP Justin Gbyindye, says eleven serial killers suspect were busted in their hideout, six were arrested and five others now at large while the ring leader was arrested at his residence behind a rock where he buried his victims.
According to the commander, who said the police commissioner would give more details to press later, said they swung into action following reported cases of missing persons but said after due diligence the suspects, whose preferences are Okada rider particularly those riding Baja motorcycles were busted.
While the entire community went berserk over the incidence, angry youths and motorcyclists were prevented by the police from doing otherwise except families of the victims who were allowed to approach the shallow graves to identify the exhumed remains of their loves for burial. Some of them who spoke to express appreciation to the police.
The gang leader Iorwuese Pila, a man with 4 wives and 10 children who took turns to identify the shallow graves of the victims without any remorse for his action, said once the Okada man is killed, the motorbikes will be sold to raise money, a job he said started this year July.
Meanwhile, the police commissioner who has gone with the state governor to visit the site today will be briefing to give more details.