Fresh crisis hits Ugboland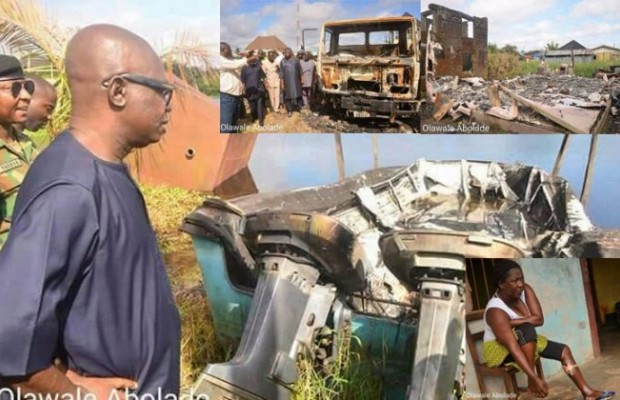 Properties worth millions of Naira were destroyed at the weekend as a fresh crisis brewed in the oil-rich Ugbo community in Ilaje Local Government Area of Ondo state over the stool of Olugbo of Ugbo land.
---
Buildings, vehicles, boats and other valuables were set ablaze during a clash between supporters of the current Olugbo of Ugbo, Oba Fredrick Akinruntan, and the former occupant of the stool, Adebanjo Mafimisebi.
A-middle age woman, Bidemi Mafimisebi, and others were injured during the clash that lasted several hours.
Sources said Mafimisebi, who was removed by the Supreme Court on January 12, 2007 after occupying the throne for 25 years, was scheming to find his way back.
After Mafimisebi's removal, the Ojadele Ruling House headed by Prince Robert Nana unanimously selected and subsequently presented Akinruntan as the candidate for the vacant stool on November 4, 2008.
A source said, "You know till now, Prince Mafimisebi doesn't really see the Olugbo of Ugbo as a king. Mafimisebi believes he was booted out of the palace unjustly.
"Since this new government came on board, Prince Mafimisebi has been warming his way to use the instrument of government and get back to the throne.
"This was what irked the Akinruntan's boys and they descended on the Prince Mafimisebi's people, burning houses and injuring People."
Agboola Ajayi, deputy governor, who on Saturday led a team to the community, said the state government had held meetings with the two warring factions to resolve the crisis.
Agboola said a bold step had also been taken to ensure such crisis does not repeat itself, appealing to youths in the area to sheath their swords for peace to reign just as he assured them of the security of their lives and properties.