Fire engulfs 5 shops at Egbeda, Lagos state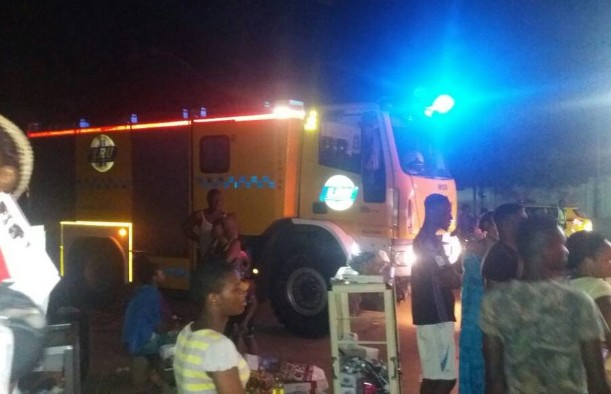 Fire engulfs  five of eight shops attached to a Union Bank building on 411 Road Junction, Gowon Estate, Federal Housing Authority (FHA), Egbeda in the late hours of yesterday.
---
 According to reports by news agencies, the inferno was noticed at the make- shift shops at about 11.20 pm, shortly after electricity supply was taken by the providers, Ikeja Electric.

However, many of the shop owners had closed and gone home as some of them do not reside in the estate but those resident salvaged some of their goods with the assistance of the youth.
Reports have it that the youth had brought down the fire before the arrival of the men of the Lagos State Fire Service from Agege.

Before their arrival which took about an hour, it was wailing and lamentations by the residents and sympathisers who urged the state government to install water hydrants and fire notices all over the estate.

They also lamented that some of the areas marked for the development of infrastructure for sports, fire service stations and recreation had been sold to individuals by the FHA.
A resident of the Union Bank building, who does not want his name in print, told Reporters that most of the shop owners did not live in the estate, adding that the cause of the raze has not been identified.

He commended the efforts of the residents, including the youth in containing the fire before the arrival of the men of the fire service who eventually quenched the raging fire.