Fire destroys 32 shops in Ibadan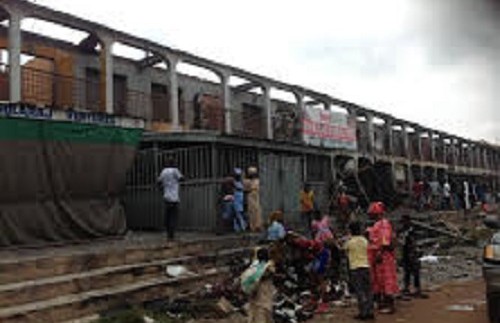 Properties worth over N500 millions naira have been destroyed on Monday, July 17, during a fire outbreak that ravaged 32 out of 72 shops at St James Church Cathedral Shopping complex, Agbokojo road, Ogunpa, in Ibadan, the Oyo state capital.
---
According to sources, the fire started from one of the single storey shopping complex, while some are of the stand that the inferno was triggered by an electrical spark from an unidentified shop.
Shops, offices and warehouses with full stock of agricultural produce, chemicals, sprayers, provisions, building materials, mobile phones accessories, shoe materials, hair extensions (popularly referred to as weave-ons), not excluding plywood supplier whose shops were also affected downstairs.
One of the security guards and few neighbours living around noticed the heavy smoke coming from the roof of the shops, and on seeing that found out that the incident is beyond human control they decided to inform the fire service station at Molete,Ibadan.
It was also gathered that few sympathizers around at that time were barred from making any meaningful rescue because of inability of professional fire brigade around. They also informed that the fire was heavy and blaring.
Some shop owners were lucky to have remnants of their products removed from the shop by some 'hard guys' around, according to sources, others like Okafor and Sulaimon were not so lucky to have recovered much from the incident.
Others were also seen picking up burnt roofing sheets from the shops only as they plan to leave the scene of the incident as soon as possible.
The affected 32 shops were from number 37 to 69 while shops 69, 70, 71 and 72 were fairly affected.
Report by Banke Kunle