FG issued 7-day ultimatum to fix Sagamu-Ogijo road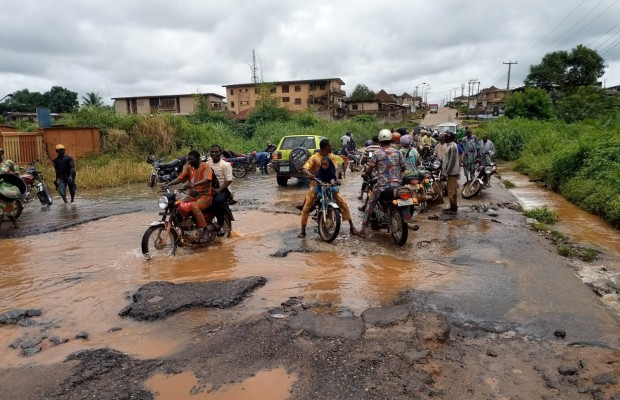 Workers' unions at the Nigerian National Petroleum Corporation Depot in Mosinmi, Sagamu area of Ogun state have issued a seven-day ultimatum to the federal government to fix the  Sagamu – Ogijo – Ikorodu road now in deplorable state or risk total shut down of the deport to create a scarcity of the petroleum products in the South West.
---
The Sagamu Ogijo Ikorodu road is gradually becoming impassable. 
The deplorable state of the road has visibly made life unbearable for many road users.
 From a complete halt of vehicular movement to road accidents, the latest incidence leading to the spillage of petroleum products.
This accident is just one of many that occur on this stretch of road, as it has resulted in commuters spending longer hours in the road, stranded and tired.
Disturbed by the state of the roads, various petroleum unions including the independent marketers Association of Nigeria, IPMAN, the National Union of Petroleum and Natural Gas (NUPENG), the Petroleum Tankers' Drivers (PTD) as well as the Independent Marketers' Branch (IMB)  NUPENG, take to the streets in protest of the deplorable road.
Speaking to Galaxy News, the union leaders lament the loss of their members to accidents which occur as a result of the bad road due to its deplorable condition.
Emphasizing that their businesses have become moribund, the union chairmen express dismay over what they described as complete negligence of the road where both the state and federal government generate tangible revenue.
The unions also want the federal government to give approval to the Ogun state government to enable it rehabilitate the Sagamu – Ogijo – Ikorodu road without further delay.
They say they are ready to pay tolls on the road.
As the Ogun state government seeks to take over the road, only time will tell if the threat issued by the petroleum workers will hold water.