Fake blind beggars arrested in Anambra state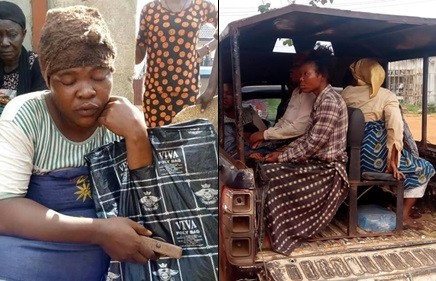 The operatives of the Anambra state police command have apprehended some women who allegedly parade themselves as blind beggars with children in order to draw the sympathy and scam their unsuspecting public.
---
The women use the little children who are being rented for N1,000 per day to beg around the metropolis while pretending to be blind.
It is also claimed that some of the children are victims of human trafficking and don't even know who there parents are.
A Facebook user, Chika Ibeneme who shared the story via her Facebook wall, revealed that these women have being parading themselves as blind beggers for a long time in the Anambra metropolis, before they were finally arrested and exposed.
I was shocked to my marrows yesterday when the taskforce team of Anambra Ministry of Women Affairs, Social welfare and Children Development burst into fraud and child trafficking syndicates who parade themselves as beggars. These group of women disguise themselves as blind beggars and perpetuate child trafficking.
The most shocking issue is that most of the children they use for begging are not their children. This woman whose pictures appear above revealed that one Edith who hails from Ebonyi state and is currently at large brings those kids to them every morning for them to rent at 1,000 naira per day.
On closer interaction with those children, the Commissioner in-charge of the Ministry was able to discover that those kids don't even know where their parents are. It is being speculated that these kids are victims of kidnapping and trafficking.
Report by Godday AKOH