Customs intercept 60 drums, 388 kegs of PMS, others in Oyo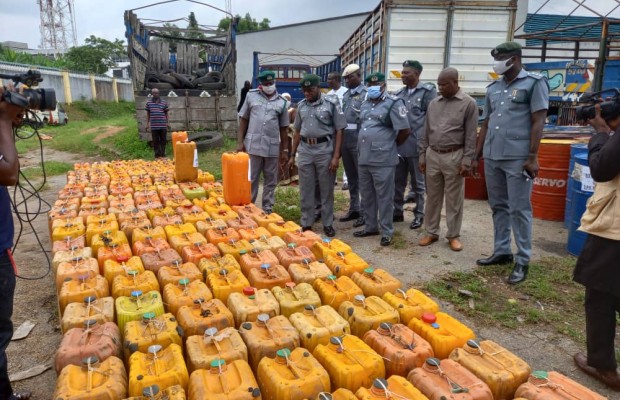 Officers of the PMS Taskforce of the Oyo and Osun Command of the Nigeria Customs Service have intercepted 16,709 litres of Premium Motor Spirit and 1,750 litres of Diesel.
The Customs Area Comptroller, Adamu Abdulkadir who showcased the seizures at the headquarters of the Command in Ibadan, says 60 drums of premium motor spirit, other petrol and 388 kegs of 25 litres of the same product were seized from a location uncovered by officers of the task force.
Correspondent Kunle Ojo reports that Abdulkadir added that his men equally recovered 70 kegs of 25 litres each of AGO, also known as diesel from other locations.
The Area Comptroller who commended members of the task force for the feat said the command remains committed to ridding the state of smuggling activities stressing that all borders along the Oyo and Osun jurisdiction, among other borders across the country remain closed to any form of both inward and outward trade.
He declared that after necessary permission from the headquarters, the products would be auctioned while the proceeds would be remitted to the federation account.
Recall that three weeks ago, the command as part of seizures made, intercepted 525 kegs of 25 litres each and 2 drums of 100 litres each of premium motor spirit from various bushes within the Oyo and Osun Command's area of coverage.