Buhari, APC chieftains condoles with Tinubu over loss of son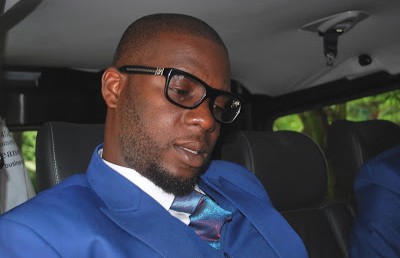 The National Leader of the All Progressives Congress (APC), Asiwaju Bola Ahmed Tinubu, on Wednesday lost his eldest son, Babajide, to a heart-related ailment.
---
The deceased was said to have gone out with friends and slumped and died of cardiac arrest on his way back home .
However, President Muhammadu Buhari on Wednesday said he was deeply grieved to learn of the death of Tinubu's eldest son.
According to a statement by his Special Adviser on Media and Publicity, Mr. Femi Adesina, the President called Tinubu on the telephone and offered condolences to his family on behalf of the Federal Government and his (Buhari's) family.
Describing the transition of Babajide as "sad and painful," the President said that the nation had been denied the services and potential of the resourceful lawyer.
He prayed that God would grant the Tinubu family, friends and associates the fortitude to bear this irreparable loss, and comfort all who mourn the passage of the promising gentleman.
Meanwhile, Former Vice President and frontline All Progressives Congress (APC) chieftain, Atiku Abubakar also expressed shock and anguish over the sudden death of Jide, the son of his political colleague and friend, Asiwaju Bola Ahmed Tinubu.
In a personal message by the Waziri Adamawa, Atiku commiserates with the Tinubu family counseling them not to lose faith in the will of Allah despite the oddity of the present pain and challenges they may have found themselves in.
"Nothing happens in this world without the will of Allah. How long we live or when to die is all ordained by the Almighty. But it's most heart-breaking for any parent to bury his or her own child. I pray that Almighty Allah would grant the Asiwaju and Senator Remi, his wife, and the rest of the family the fortitude to bear this huge loss", Atiku said.
Also, the Speaker, House of Representatives, Yakubu Dogara, has condoled with Tinubu over his son's death.
The Speaker in a statement he personally signed on Wednesday, stated, "I was shocked to  receive the sad news of the sudden death of Babajide.
"The late Babajide was a lawyer  of high repute who cut his teeth in the maritime sector and was  hardworking and enterprising. It is saddening that a father buries his son. I can only imagine your pain and grief at this time.
"I pray God almighty to grant you and your family the fortitude to bear the irreparable loss."
Also, the Ondo State Governor, Oluwarotimi Akeredolu, SAN, in a statement by his Chief Press Secretary, Segun Ajiboye, commiserated with Tinubu over Babajide's death.
May his soul rest in peace.