IPOB reaffirms stand to boycott election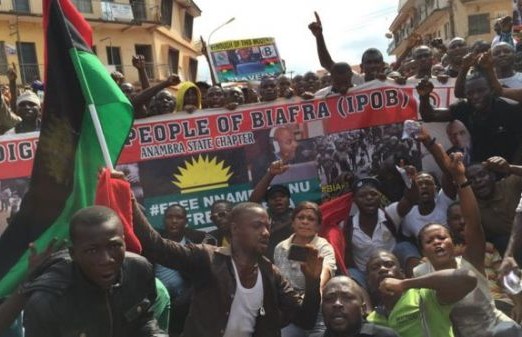 The Indigenous People Of Biafra (IPOB) on Monday, August 21, reaffirmed its commitment to boycott election in the south-east region of the country.
---
With thousands of supporters who converged on the popular stadium of Ekwulobia in Aguata local government area of Anambra state, the group, with a move to pass their message of No Election in Anambra state, came out in mass, dressed in Biafran attires, alongside it's colourful flags hoisted at every junction as a symbol of recognition of what they described as "their quest for self government."
Also the popular Ekwulobia Junction adjacent the major market in the community turned a converging point for the group.
Barricading the popular Ekwulobia T-Junction, condone-off with heavy presence of joint military patrol, the IPOB supporters who recount their ordeal in the hands of Nigerian government, vowed not to relent until their demands are met.
While chanting No Election songs and request for a speedy call for a referendum, the supporters were also seen soliciting for international community's intervention to consider their plight on their renewed call for the actualization of a state for the people of Biafra nation living in Nigeria state.
Some said the request to start the Election boycott with the Anambra state coming governorship election would serve as a litmus test to tell the rest of the world their position on Nigeria polity.
Earlier, the leader of the group, Maxi Nnamdi Kanu addressed the supporters at the Ekwulobia stadium, on the need to keep faith with the struggle, buoyed with the fact  that the struggle would soon yield it desired results if members are resolute in their demands.
Contrary to the usual expectation that the exercise will turn bloody, the protest recorded violence free excercise.
The protest also witnessed seal up of business activities where stores were shot to observe the event, while some affirmed that it conform with international standard of peaceful exercise as experienced in the  global IPOB reaffirms stand to boycott election
Reports by Ajibade Awofeso