Aisha Buhari bags doctorate degree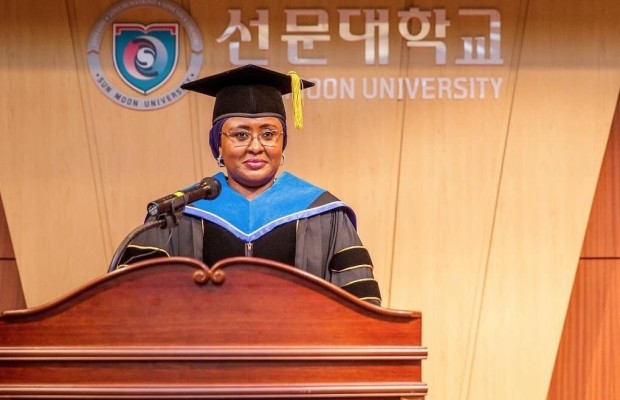 Wife of the President of Nigeria, Aisha Muhammadu Buhari has been conferred with an honorary Doctor of Philosophy in Public Administration by Sun Moon University, Asan, Republic of Korea.
---
At the international conference hall of the university where her decoration took place, Aisha Buhari in her acceptance speech said it was heartwarming that her contributions to women and children in Nigeria had earned such special recognition by Sun Moon University.
She noted that the award will motivate her to do more, and encourage women and the younger generation to imbibe the culture of rendering assistance to people in need.
The wife of the president acknowledged and appreciated the support of her husband, President Muhammadu Buhari and also thanked the University for recognizing her.
Aisha said the award will further strengthen the bilateral relations between Korea and Nigeria, adding that it would bring the educational systems of both countries closer.
According to her, the gesture will also provide opportunities for collaboration, especially in the area of skill and knowledge transfer for lecturers and students.
President of Sun Moon University, Dr. Sun-Jo Hwang, said Nigerian first lady made great effort to improve the lives of women and children through her Future Assured Programme (FAP) thereby contributing to the development of human rights and education for women and children through various international activities.
Nigeria's ambassador to Korea, Alh. Amin Muhammad Dalhatu, expressed words of appreciation for the honor done to the wife of the president, noting that the honor is not only to Nigeria but to Africa and mothers all over the world