Russia subway bombing kills 11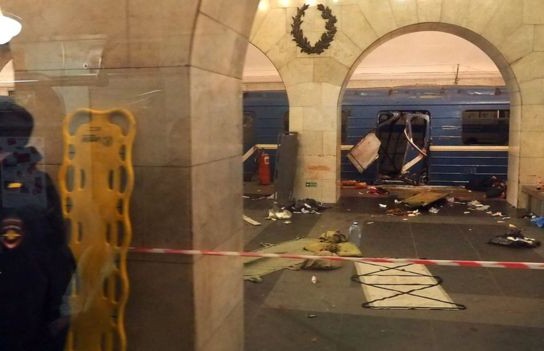 At least 11 people were killed and 49 injured in an underground bombing at a metro train station in the second largest city of russia, St. Petersburg on Monday afternoon.
---
 The likely suspect in the deadly blast in the Russian city of St Petersburg is a Kyrgyz-born Russian citizen, Kyrgyzstan's security service said on Tuesday morning.
A spokesman for the GKNB security service identified the suspect as Akbarzhon Jalilov, born in the city of Osh in 1995. He provided no other details.
There are conflicting reports as to whether he was a suicide bomber.
Kyrgyzstan, a predominantly Muslim Central Asian nation of six million, is Russia's close political ally and hosts a Russian military airbase.
An helicopter hovered overhead as crowds gathered to observe rescue operations. Ambulances and fire engines were t the scene for the rescue operation.
The Russian president, Vladimir Putin, was in St Petersburg, his home city as at the time of the blast  for a meeting with Belarus's leaders. At the scene where he visited on Monday evening, said he was considering all possible causes for the blast, including terrorism and was consulting with security services.
The president of the united state, Donald Trump offered "full support" in bringing those responsible to justice in his conversation with Mr. Putin on he phone, as said by the white house.
"Both President Trump and President Putin agreed that terrorism must be decisively and quickly defeated," a statement said.
German Chancellor, Angela Merkel also described the blast as a "barbaric act" and EU foreign policy, chief Federica Mogherini said Europe's thoughts were with the Russian people.
Russia in the last 10years has suffered attacks from separatist Islamist Chechen militants. Islamic State, which has drawn recruits from the ranks of Chechen rebels, has also threatened attacks across Russia in retaliation for Russian military intervention in Syria.
Several transport hubs in Russia have, however, been attacked. In 2010, 38 people died in a double suicide bombing on the Moscow metro.
And a year later, a bomb exploded on a high-speed train traveling between Moscow and St Petersburg, killing 27 and injuring another 130.
Both attacks were claimed by Islamist groups.
Authorities of russia, however declared a three days mourning for those involved in the attack.