O.J. Simpson granted Parole after 9 years in Jail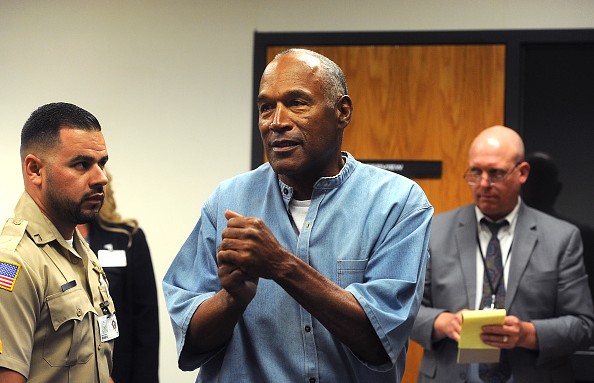 A Former NFL Player O.J. Simpson, who was convicted of armed robbery and kidnapping will walk out of prison in October after nine years behind bars.
---

The 70-year-old football star, who won his release from a Nevada parole board on Thursday after serving time for a botched robbery, is likely to remain shackled to a multimillion-dollar wrongful death civil judgement stemming from the 1994 murders of his ex-wife, Nicole Brown Simpson, and her friend Ronald Goldman.
Their families should be able to stake their claim to at least a portion of Simpson's future earnings, whether he writes a book, appears on a reality television show or sells autographs, legal experts said.
Simpson was acquitted of the murders two decades ago during the so-called "trial of the century," though his reputation - built atop a Hall of Fame football career as well as years as a popular pitchman and actor - suffered permanent damage.
Despite the not guilty verdict, a civil court jury found him liable for the deaths and awarded $33.5 million in damages to the victims' families.
That judgement, which was renewed in court two years ago for another decade and enlarged to about $58 million, remains largely unpaid. And David Cook, a longtime attorney for the Goldman family, said he would not abandon efforts to collect.
"The good news for Mr. Simpson is he's probably going to get out on October 1," Cook told reporters before the parole decision. "And the bad news is I'm good for another 10 years ... ready to pick up where we last left off."
In most states, creditors can seek wage garnishment to recoup some of what they are owed from a debtor's income. In Florida, the state where Simpson said he planned to live if granted parole, the garnishment is limited to 25 percent.
But there are ways Simpson could try to protect his assets avoid paying the judgement. He could rely on a friend to provide him with a place to live, an idea that has already been floated by his friend, Tom Scotto, who told USA Today Simpson might live at his house after his release.
Simpson could also purchase a home in a state where such property is protected.
Florida, for instance, is known for having especially strong "homestead" laws that guard one's primary residence against creditors. That has prompted a number of wealthy people to declare residency in the state.
In addition, Simpson may try to transfer his assets into a trust intended to keep them from creditors, though such trusts are meant to protect against future liability, not to shield assets from a pending debt.
A lawyer for the families could sue Simpson if he tried to create a trust expressly to avoid paying the judgement, said Steven Gleitman, a Los Angeles attorney who specializes in asset protection.


source: reuters