UCH staff protest non-payment of 13 months salaries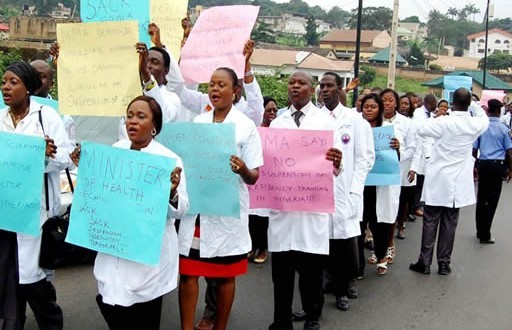 Hundreds of contract staff of the University College Hospital, Ibadan today protested the nonpayment of their 13 months salaries and other benefits, with an appeal to the management of the hospital to come to their aids.
---
The workers had converged on the main entrance of the hospital around 7 am with placards of various inscriptions which captured their agony and pains.

Correspondent Kunle Ojo reports that the contract staff in their uniforms abandoned their respective duty posts and marched round various sections of the hospital.

Some of the staff who spoke with our Correspondent said they have been dehumanized and could no longer attend to basic needs of their families, stressing that they are confused about who is responsible for non-payment of their salaries.

The staff maintained that they were tired of the usual excuses from the management of the hospital that the federal government is yet to release money for payment of their salaries.

Addressing the protesters who had laid siege close to his office, the Chief Medical Director of the hospital, Prof. Temitope Alonge, called for the understanding of the troubled staff, saying a meeting has been scheduled for tomorrow on the outstanding issues.

All attempts by our Correspondent to get the reaction of Prof. Alonge was abortive as he was said to have been late for another meeting.

The protesters were made up of security officers from various organizations, cleaners among others.