Fayose Thrashes Fayemi To Emerge Ekiti State Governor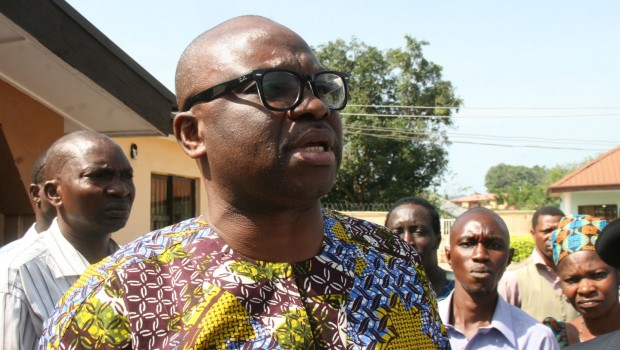 THE governorship candidate of the Peoples Democratic Party (PDP) in Ekiti State, Mr Peter Ayodele Fayose has been declared winner of Saturday's election in the state. Fayose polled 203,090 votes to defeat the incumbent Kayode Fayemi of the All Progressives Congress, who scored 120, 433 votes.

The candidate of the Labour Party,  scored 18, 135 votes.  According to the Independent Electoral Commission (INEC), around 4.22a.m on Sunday, Fayose scored the highest number of votes in all the 16 local governments of the state o emerge winner of the election.

Ado Ekiti, the Ekiti state capital, remained calm as the news of INEC declaration of former governor Ayodele Fayose as winner of saturday's governorship poll filtered in.

Most residents were still in their sleep when the result of the election was announced.

About 56.34 per cent of the total votes cast in the Ekiti governorship poll were secured by Mr Ayodele Fayose, of the PDP, going by official results.

He scored 203,090 out of the 360,485 total votes cast during the election. Incumbent governor Kayode Fayemi got 33.41 per cent, going by the official figure released by INEC.

Before announcing election resukts, an admixture of jubilation and suspense trailed the ranks of the three frontline candidates in the governorship election conducted in Ekiti State on Saturday.

Sunday Tribune observed mixed feelings in the camps of incumbent Governor Kayode Fayemi of the All Progressives Congress (APC); former Governor Ayo Fayose of the Peoples Democratic Party (PDP) and Honourable Micahel Opeyemi Bamidele of the Labour Party (LP) at the close of balloting.