Singer Terry G declares his intention in politics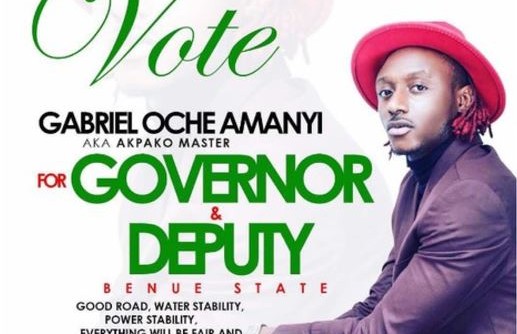 Nigerian long time singer, Gabriel Oche Amanyi better known as Terry G has declared his intention to run for governorship election in Benue state.
---
The Akpako Master took to his Instagram page to reveal his ambition and upload his campaign poster, incidating his aspiration as that governor and deputy governor of the state.
TerryG in his poster, captioned: "MY PEOPLE, THE TIME IS NOW. POWER BELONGS TO THE YOUTHS, SAY NO TO OLD CARGOS…VOTE TERRY G FOR GOVERNOR/DEPUTY OF BENUE STATE, I WILL MAKE YOU PROUD..WHEN I SAY LEGALIZE YOU SAY GINJAH.."
Even though he did not disclose the political party he intends to use as a platform, he stated his intention to the people.
According to the poster: "Gabriel Oche Amanyo AKA Akpako master for Governor & Deputy Benue state. Good road, water stability, power stability, everything will be fair and legalized.
Meanwhile, he also dropped a threat like comment on his poster, "but if i dont win, there will be problem!!!