Single mother, Adunni Ade speaks on her separation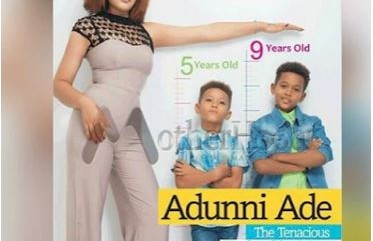 Nollywood actress, Adunni Ade has opened up on her separation. She walked away from the father of her kids after living together for 8 years without marriage.
---
Adunni,who is also the cover star for the latest issue of Motherhood In-Style Mag alongside her two sons gives reason for her separation. 
Eventhough it was a tough decision for her to make, Adunni said her two sons, D'Marion, 9 and Ayden 5 were in the United State before they relocated to Nigeria.
"It was a bit hard walking away but I had no choice because the father of my children wasn't ready for marriage. I just had to make that decision though it took me a long time to realise or stop lying to myself that it was never going to work out even though I tried as much as I could."
According to her, her decision was the best for her, walked away and she is still here with her kids. It gives her the opportunity of being the best mother.
"It was really tough, it was really painful; I think that hurt me the most out of anything that I have ever been through in my life, walking away was the hardest thing to do."