Michael Laudrup's Pride At Swansea Winning Capital One Cup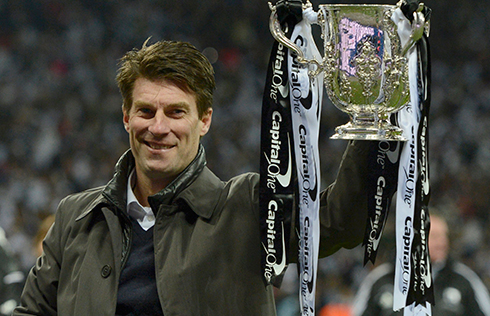 Michael Laudrup said winning the Capital One Cup final with Swansea City ranked alongside his proudest moments in his distinguished career as player and manager.

The Swansea manager was speaking after the Welsh club won their first leading trophy with a 5-0 win over Bradford City at Wembley. The victory guarantees Swansea a place in the UEFA Europa League next season and Laudrup, who is in his first season as manager at the club, contrasted it with the honours he claimed as a player at Ajax, Barcelona, Juventus or with Denmark.

"I don't think I can compare this title today with something I have done before, for the simple reason that it's one thing to win when you are playing for Barcelona or Juventus, but to win it with a smaller club is absolutely fantastic," Laudrup said. "It is Swansea's first major trophy ever and to win it in this, the centenary season, is up there with the best things I have done because it is completely different."

Despite beating three Barclays Premier League sides, Wigan Athletic, Arsenal and Aston Villa on their way to the final, Bradford, of League Two never threatened another upset. Goals from Nathan Dyer and Michu put Swansea 2-0 up by half-time, Laudrup knew the game was won when Dyer added the third early in the second half. Two goals from Jonathan de Guzman gave Swansea a record final win.

"It is not often you can enjoy a match for maybe 40 minutes, but once we went 3-0 up, I knew it was done," Laudrup said. "It was not easy to start with, because at 0-0 or 1-0 if you make a mistake, and they can score and be right back in it, but we played with patience and in the end it was fantastic."