Messi Wins Fourth Consecutive Ballon d'Or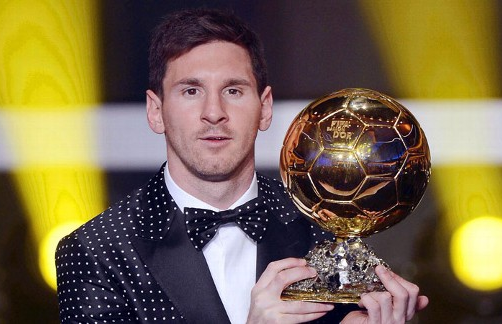 Barcelona forward Lionel Messi has claimed the 2012 FIFA Ballon d'Or award after he netted 91 goals to break the record for goals scored in a calendar year.
Messi, 25, beat team-mate Andres Iniesta and Real Madrid rival Cristiano Ronaldo to the prize.
It was a record fourth successive trophy for the Argentina star, who won both the FIFA World Player of the Year and the Ballon d'Or in 2009 before then claiming the FIFA Ballon d'Or in 2010 and 2011 when the two prizes were merged.
An emotional Messi said it was "unbelievable" and thanked everyone who had helped him reach the pinnacle of his profession as he picked up the trophy in Monday night's gala awards ceremony at Zurich's Kongresshaus.
"To tell you the truth this is really quite unbelievable," Messi said. "The fourth award that I have won is just too great for words. I want to remember my team-mates at Barcelona, especially Andres. It is with great pride that I am beside you today and that you play and train with us.
"(I also want to thank) my team-mates with Argentina, my colleagues who voted for me, the captains and coaches, my family, my friends, and lastly and most especially my wife and my son. Thanks very much."
Messi polled 41.60% of the votes, with Ronaldo taking 23.68% and Iniesta 10.91%.
Ronaldo, the 2008 Ballon d'Or winner, has continued to impress with Madrid and netted 71 goals in 64 games throughout 2011-12 while bagging 16 in 18 in La Liga so far this season. Iniesta, 28, was a runner-up in 2010 and won UEFA's Best Player in Europe award in August but failed to become the first Spanish winner of the award since Luis Suarez in 1960.
Spain coach Vicente Del Bosque claimed the FIFA Coach of the Year award.
Del Bosque said he was proud to represent all of Spanish football after seeing off competition from ex-Barcelona boss Pep Guardiola and Real Madrid manager Jose Mourinho to claim the award for the first time.
The Euro 2012-winning coach showed characteristic modesty in claiming that the award was recognition for everyone who had helped Spain to claim a record third major championship in a row last summer.
"First of all, I want to congratulate the other nominees," Del Bosque said. "It is a great privilege and honour for me to be involved with the Spanish Football Federation, the technical staff and the coaches and to represent the Spanish team and Spanish football."
Former Real Madrid boss Del Bosque, who also led Spain to the 2010 World Cup, took the opportunity to thank those who had helped him reach this point in his career, and to call on all involved in football to set an example in their personal behaviour.
"In this moment I want to remember my family and all the coaches I had in my career, who helped me to become a coach," he said. "I would also like to say that all of us in football, we all want to win, but we are also obliged to defend football and look after it, by setting an example by our behaviour and personal conduct."
Mourinho chose not to attend the ceremony, claiming last week that he had to remain in Madrid to prepare for his side's Copa del Rey last-16 second round tie against Celta Vigo at the Estadio Santiago Bernabeu on Wednesday.
The FIFPRO XI award also proved a major success for the Spanish game, with the entire selection coming from La Liga, with all but one of the players selected coming from Barcelona or Real Madrid.
Men's World Player of the Year: Lionel Messi
Women's World Player of the Year: Abby Wambach
Men's Coach of the Year: Vicente Del Bosque
Women's Coach of the Year: Pia Sundhage
FIFPRO XI: Iker Casillas (Real Madrid and Spain); Dani Alves (Barcelona and Brazil), Gerard Pique (Barcelona and Spain), Sergio Ramos (Real Madrid and Spain), Marcelo (Real Madrid and Brazil); Xabi Alonso (Real Madrid and Spain), Xavi Hernandez (Barcelona and Spain), Andres Iniesta (Barcelona and Spain); Lionel Messi (Barcelona and Argentina), Radamel Falcao (Atletico Madrid and Colombia), Cristiano Ronaldo (Real Madrid and Portugal).
FIFA Puskas Award for best goal: Miroslav Stoch
FIFA Fair Play Award 2012: Football Federation of Uzbekistan
FIFA Presidential Award: Franz Beckenbauer