Ganduje's 2 years in office trail reactions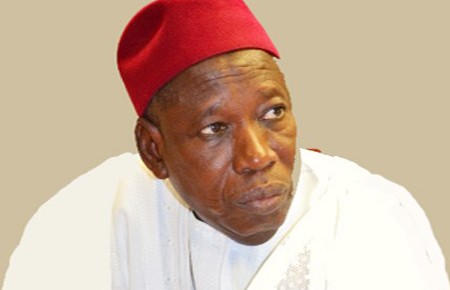 Reactions have continued to trail Governor Abdulahi Umar Ganduje's two years in office.
---
Residence from several local government areas of Kano state told Galaxy TV news that they have been living in difficulties in recent times.  Some of the women said they lack proper health care facilities in their respective local government areas while some men said a lot need to be done to checkmate the increasing rate of drug abuse, rape and other criminalities in the state.
In their reactions, the women leaders from Bage and Municipality local government areas, Hajiya Lami Godita and Maimuna Inusa respectively, lamented the poor living standard of women in Kano state. Lami said women have been living like destitute and called on the state government to come to their aide. Maimuna urged the Ganduje administration to upgrade the medical facilities within the town for women's maternity.
In their voice, "We want Ganduje to come to the aid of the women. We are fasting and the Sallah celebration is around the corner, he needs to know that we need help."
"For the sake of God they need to upgrade the medical facilities in Municipality Local Government area. They need to assist the women. We the followers of this administration have become the laughing stock of the opposition."
Residents, from other local government areas of the state decried the limited opportunities available in the state tertiary institutions. While some are calling for quick repairs of roads to ease the transportation of farm produce to the city, Comrade Usman Isa from Dala local government area said it is sad to note that the religious status of Kano state did not prevent it from having the highest rate of drug abuse in the North.
"The state government need to courses that mitigate drug abuse in the state tertiary institutions. Also the National drug Law and Enforcement Agency need to site offices in all the forty four Local Government areas of the state to curtail the issues of drug abuse."
In defense of Kano state government, the special adviser to Governor Ganduje on Youth Empowerment, Hajiya Saraya Aminu called on the residents to be patient with the current administration because it is only half way its tenure. Saraya also urge the residence of Kano to interact more with their lawmakers and local government representatives because the governor is not omniscience.
"The Governor cannot be everywhere at time. People need to know that Ganduje has done well within the last two years. The lieutenants of the governor and the Local government administrations should also be approached for any pressing issue instead of always waiting to see the governor."
Meanwhile, Governor Ganduje while speaking during a town hall meeting to mark the democracy day in Kano state, promised to perform better in the remaining two years of his term.