Man buys 3 human hearts to prepare charms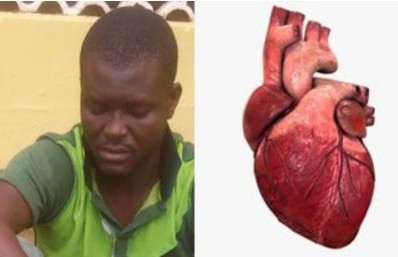 The Ogun state police command has on Thursday, August 10, paraded a 35-year-old man, identified as Bakare Olalekan, who allegedly bought three human heart for N10,000.
---
Upon interrogation, Olalekan admitted to have committed the crime. He confessed that he bought the human hearts for N10,000, just to prepare good luck charm for himself.
He confessed to have bought the hearts from one Oye who he claimed is a very good friend of his.
Olalekan revealed that his friend, Oye said the human hearts are the major ingredients for preparing the charm.
In his word, Olalekan said; "He (Oye) later sold three human hearts to me and he used one of them to prepare the charm for me.
"I later sold the remaining two to a suspect who is also being detained,"
Confirming crimes committed by the suspects, the Police Commissioner, Ahmed Illiyasu, disclosed that Olalekan was part of a four-man gang that was arrested for killing a 16-year-old girl, Olayinka Adebayo, in August 2016.
Among the suspects was a fake naval officer, Abdullahi Hammed, a fake police officer, David Olasubomi, and a fake prophet, Kehinde Onanunga.
Crimes ranging from kidnapping, robbery, among others have continued t top the news during the week.
While Olalekan was paraded on Thursday, another kidnapper's den was the same day uncovered at the Ile-zink area of Ikeja, along the Lgos-Abeokuta expressway.
The Ile-zink's den was uncovered just in few days after the outburst of one den in the Obadeyi area, in Ijaiye road in Lagos.
Upon the outburst of the den, mob in the area had already lunched two of the suspected kidnappers in the den.
Security operatives had since apprehended some of the suspects and rescued some from being lynched by the angry mob.
Report by Akoh Godday