Suicide attack kills 8: ISIS claims responsibility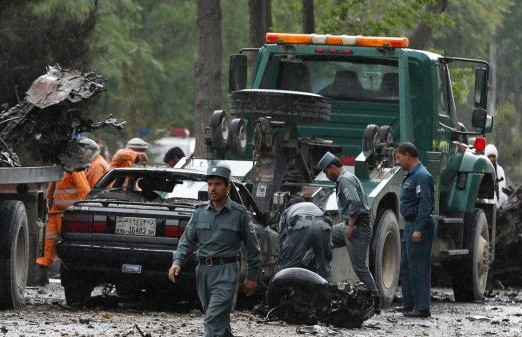 Eight people have been confirmed dead and at least 28 wounded in a suicide bomb attack in the Afghan capital Kabul on Wednesday.
---
The attack took place on a convoy of armored personnel carriers used by the NATO-led Resolute Support mission.
The blast hit the NATO coalition convoy during the morning rush hour in one of the busiest areas of Kabul.
Public health officials in the capital said eight civilians were killed and at least 25 wounded, with a number of civilian vehicles that were near the convoy destroyed or badly damaged.
A Resolute Support Spokesman, U.S. Navy Captain Bill Salvin, said "three U.S. service members were wounded in the attack. The armored personnel carriers, which are designed to withstand large blasts, were able to return to a coalition base under their own power".
The attack follows a threat by the Taliban to target foreign forces in the spring offensive that it launched last week.
Meanwhile, the Islamic State have claimed responsibility for the attack on an armored convoy used by NATO that killed eight people in the Afghan capital Kabul.
It said in a statement on its Amaq news agency that a suicide bomber detonated an explosives-rigged car as the convoy passed an area near the U.S. embassy, killing eight American soldiers.