Ekiti lawmakers condemn FG plans to checkmate Fayose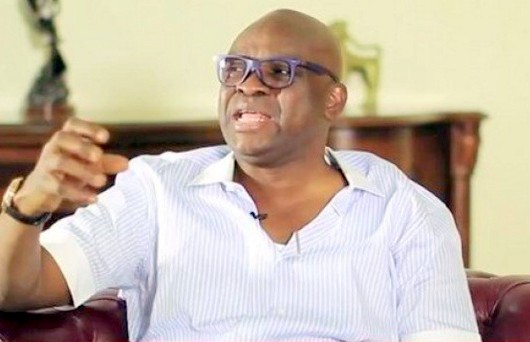 Lawmakers in Ekiti House of Assembly has raised alarm over an alledged Federal governments plan to stop governor Ayodele Fayose from making foreign trip threatening to cause stalemate that would cause Nigeria international embarrassment among the comity of nations.

Addressing journalist at the Nigerian Union of Journalist Press Centre, Iyaganku Ibadan today, the lawmakers called on well meaning Nigerians and other stakeholders to appeal to the President Muhammadu Buhari led APC government to save the nation from being turned to an authoritarian state.

It was gathered that the Lawmakers were led to the premises of the Nigerian Union of Journalists Press Centre, Iyaganku, Ibadan by  Rt. Hon. Segun Adewunmi, the deputy speaker of the Assembly maintained that if the plan is actualized they would react in a manner that would proved to the whole world that they are not fools adding that they would not accept the plan to mussle the governor or do anything that would tamper with his authority and immunity as a governor.

They claimed that they got the security report about the plan the same the same way they got the report on the FG's plan to remove Governor Fayose from office claiming that the DSS has even being directed to use whatever mean measure to enforce the government decision.

The lawmakers also alleged plot to out-rightly take the governor out of circulation stressing that the plan cannot be ruled out as those advising President Buhari are seeing the governor as a threat to Buhari's re-election bid and that everything must be done to whip the governor to line before the next general election

Hon. Adewumi disclosed that the lawmakers are always behind the governor on everything that he does and that the latest plot is as a result of the governor's critical stance on President Buhari's government and its anti-people's policies wondering why the government would stop a sitting governor from making foreign trips when there is no court order restraining him, even despite his constitutionally guaranteed immunity

Other lawmakers in company of the Deputy speaker are Hon. Gboyega Aribisogan, Chairman, House Committee on Information and Hon. Dr. Samuel Omotosho.