7 U.S missing sailor found dead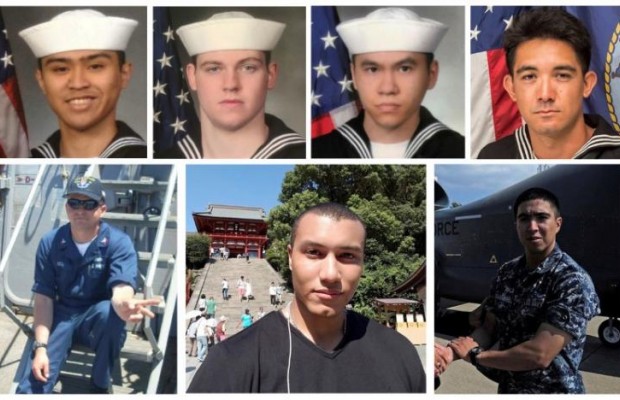 The U.S. Navy has confirmed on Monday that all seven missing sailors on the USS Fitzgerald were found dead in flooded berthing compartments after the destroyer's collision with a container ship off Japan over the weekend.
---
 The USS Fitzgerald and a Philippine-flagged container ship collided south of Tokyo Bay early on Saturday. The cause of the collision in clear weather is not known.
A significant portion of the crew was asleep when the collision occurred, tearing a gash under the warship's waterline and flooding two crew compartments, the radio room and the auxiliary machine room.
A large dent was clearly visible in its right mid-section as the destroyer limped back to Yokosuka naval base south of Tokyo, home of the Seventh fleet, on Saturday evening.
The U.S. Navy on Monday identified the dead sailors as: Dakota Kyle Rigsby, 19, from Palmyra, Virginia; Shingo Alexander Douglass, 25, from San Diego, California; Ngoc T Truong Huynh, 25, from Oakville, Connecticut; Noe Hernandez, 26, from Weslaco, Texas; Carlos Victor Ganzon Sibayan, 23, from Chula Vista, California; Xavier Alec Martin, 24, from Halethorpe, Maryland; and Gary Leo Rehm Jr., 37, from Elyria, Ohio.
Two of three injured crew members who were evacuated from the ship by helicopter, including the ship's commanding officer, Commander Bryce Benson, were released from the U.S. Naval Hospital in Yokosuka, the U.S. Navy's Seventh Fleet said on its Facebook page on Monday. The last sailor remained in hospital and no details were given about his condition.