She is my greatest award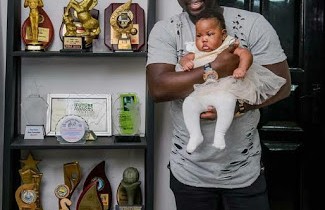 Popular Nigerian comedian, Seyilaw took to his social media handle to express his love for his adorable daughter.
---
 The comedian, Thursday, February 2, revealed that his adorable daughter, Tiwaloluwa is the greatest award in his life.
The comedian revealed while showcasing his numerous awards. Making a comparison with some other awards/trophies, Seyilaw wrote; "On the shelf sits over 35 of the over 50 awards I have won, but standing beside them in my hands is the greatest of my awards. It is the greatest because God gave me as a gift to keep, nurture & cherish.
Reports by Akoh Godday